Hand-Tufted Custom Rug: A Complete Guide: Carpet and rugs extorted control of around $51.9 billion within the textile industry, expected to grow further. They show promising growth, with 4.6% investments done almost every year within the industry. Such facts could be a pointer towards how swiftly this dynamic industry is moving.
Rugs and Carpets have been around for many centuries now. While a few decades ago, they were simply a symbol of luxury, they have been in the demand and supply chain now. Due to the absence of technology, all the carpets had to be hand-woven and hand-stitched during earlier eras. Still, with the proliferation of automation, it has become easier to mass-produce carpets and hand-tufted custom rugs. Multiple organizations at present specialize within these domains.
What is Hand-Tufted Custom Rug?
There have been many assumptions regarding hand-tufted custom rugs. Contrary to popular beliefs, the hand-tufted rugs rely on machinery, though it amounts to a small part. As new technologies develop, the trends in creating these also evolve. Many organizations have used a robotic arm controlled by computers to replicate and mass-produce a similar design over various canvases. However, the number is fewer, and those don't come under hand-tufted. Hand-tufted rugs rely on handcrafting with the aid of a tufted gun.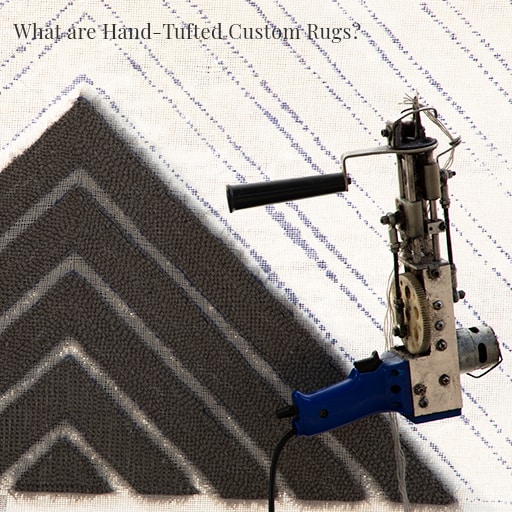 Hand-Tufted custom rugs are relatively inexpensive but are still very durable. If the design or the pattern is specified, there is a rare chance that any flaws might be visible. Since it is partially done using technological tools, it becomes easier to complete a single carpet even in days and by a sole worker.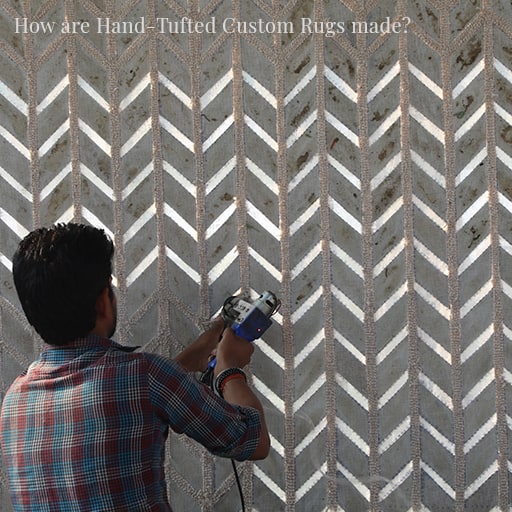 How are Hand-Tufted Custom Rugs made?
Construction of hand-tufted custom rugs takes place using tufting guns. Although most of the materials could be tufted, wool and cotton are the most used fabrics. The tufting guns shoot yarns to the back of the rug, which are maneuvered into a backing canvas to trace a particular design. The fringes/ tufts are stitched at the back of the carpet. Thus only one side of the mosaic is designed. The yarns are then either cut or shaved to form piles.
Once all the yarns are intact and the design has been completed, another piece of cloth of the same color as the backing cloth is attached using a latex glue to the back. This ensures that the fibres are intact. As a protective measure, the edges are hand-stitched and sealed.
Since the yarn is stuck to a foundation cloth and not woven wool by string, the process is less labour-intensive and can be accomplished within days. Unlike the hand-knotted rugs, it produces meticulous designs with ease with a lesser chance of imperfections. However, these hand-tufted custom rugs are not suggested for areas with heavy foot traffic.
Check for yourself!
A clever way to identify whether a rug is hand-tufted is to check its backside. These hand-tufted custom rugs have a lesser compression since the tufts are firmly attached and are thicker, and are accompanied by coarse bristles. They would carry extra fabric stuck to them to cushion the delicate fibres.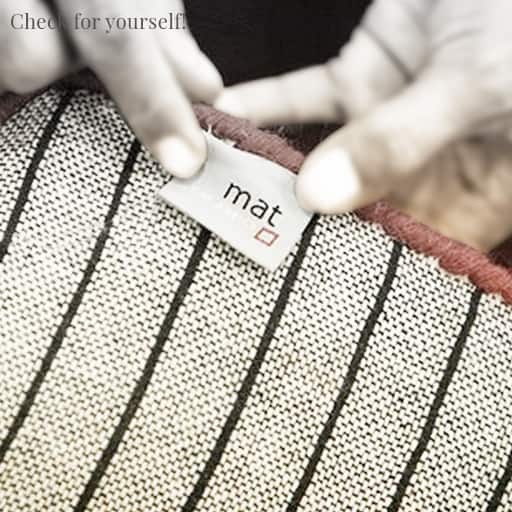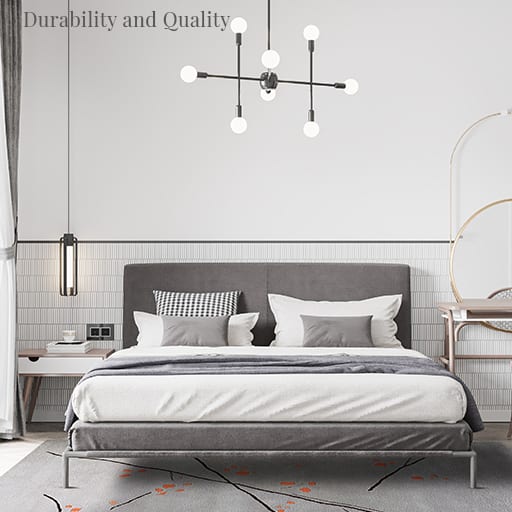 Durability and Quality
Since the durability of the fiber depends upon the traffic, it can last at the very least for up to 10 years. With even more intensive care, these hand-tufted custom rugs could survive for 20 years. Cleaning these rugs is also an inefficient task; make sure not to beat or shake the carpets as it could deteriorate the fibres. Water can also loosen the glue, which is meant to secure the yarn and the fabric to its place. These hand-tufted custom rugs are better suited for bedrooms.
Advantages
Hand-tufting is a dominant method within the rugs industry as it takes less time to create and has certain ease attached with its production. With a tufting gun, you can design precise patterns. They are priced higher than machine-made rugs but lesser than the hand-knotted rugs. The difference in the yarn used, the size of the carpet, the design, colour dye, and the pattern will also incur charges depending on both the availability and the exclusivity.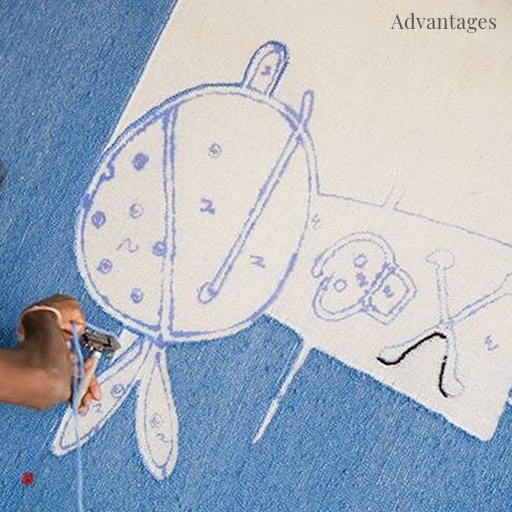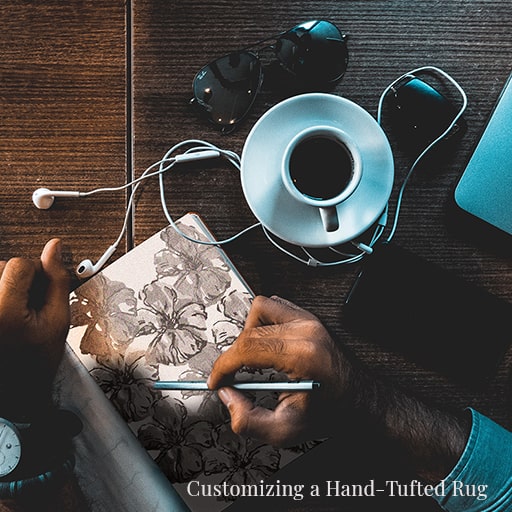 Customizing a Hand-Tufted Rug
Customizing a hand-tufted rug is extremely easy. To begin with, you must select the yarn material. It can be either silk, wool, cotton, or any mix provided by the manufacturer. The next step is to decide on the color of the yarn and the pattern. Once these choices are made, the hand-tufting process can commence. Since hand-tufted custom rugs are not labor-intensive, the delivery time is cut short.
Solutions
Though many organizations provide you with this service, it is always the best strategy to employ the services of a manufacturing house that takes your needs primarily and allows you to customize your product. At MAT The Basics, we provide an in-house production of hand-tufted custom rugs and carpets. With skilled professional weavers and artisans available at all times, the turnaround time for the product is speedy.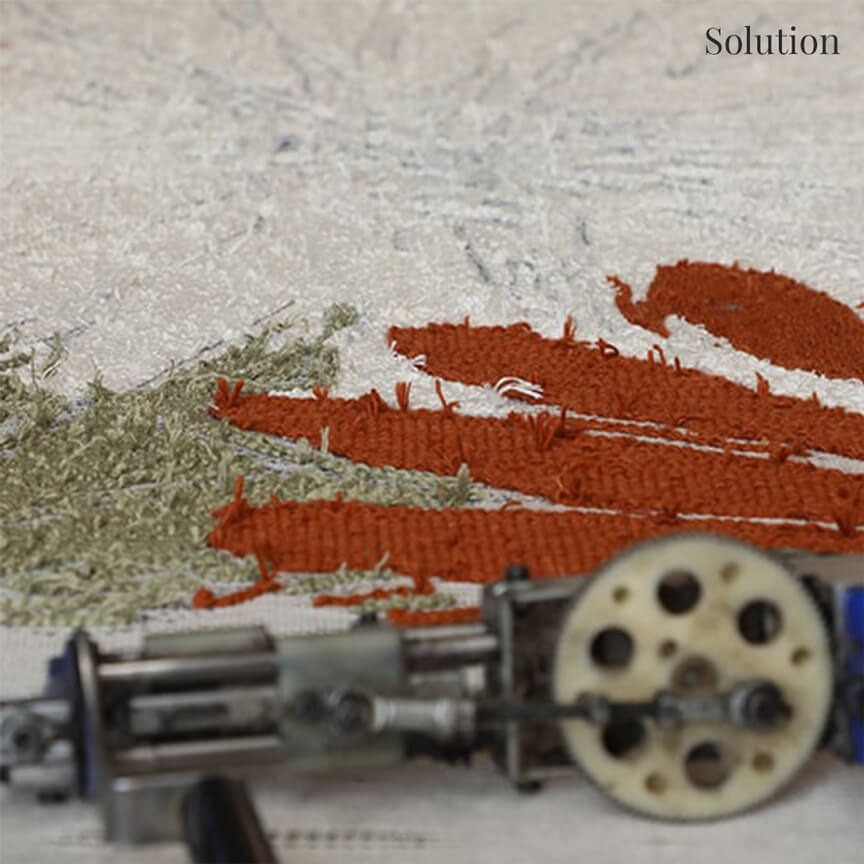 As hand-tufted custom rugs and carpets are easier to produce, the design and the pattern could be focused on. Armed with a tufting gun, the products can be made without any flaws, and the methods specified are precise to the little details. Whether you are inspired by Norwegian block designs, vibrant African design, or contemporary European styles, MAT the basics will provide you with a unique hand-tufted custom rug in any material of your choice.
In addition, MAT also has a pool of best-selling hand-tufted custom rugs collection at its disposal. Categorized by a collection line, differentiated by choice of material and an assortment of patterns, the quality and the products they provide are enthralling. For example, the Blanc Collection uses wool exported from Europe and New Zealand to create a wholesale rug collection; the Rio Collection employs cowhide and amalgamates it with a plush bamboo viscose to make a high-low pile of hand-tufted rugs.
With MAT, there is no going wrong with the quality and the pricing. With new and updated designs regularly turning up to suffice the needs of an even diverse generation, they offer a plethora of choices and opportunities to all its customers.
They even have a few specialized trade programs suitable for e-commerce companies and interior decorators and provide private labelling. Is guaranteed to give a thriving edge to these businesses and ensure higher quality and the best price in the market against their hand-tufted custom rugs.