5 Best Tips to choose a perfect area rug for Bedroom: Leaving a cosy bed in the morning and stepping out onto the floor is a real task. A bedroom area rug under the bed doesn't only provide the feet with a soft and cosy surface to land, maintaining the softness and feel of the bed even when the feet touch the floor. Bedroom Area Rug provides an extra level of texture to the bedroom and helps hide the carpet or floor stains underneath while also reducing the noise. Perfect area rug for bedroom.
Use the below tips to choose a bedroom area rug that cosies up space and helps elevate your décor or furnishings in the right manner:
Perfect Area Rugs for Bedroom
Select the right size
There are three options for placing an area rug in a Bedroom: full bed on the carpet, partial bed on the rug, and runners on the side of the bed.
When you plan to place an indoor area rug in a bedroom but cannot decide its size, take masking tape and measure 36 inches from the wall of all sides and mark it with tape. One wall will have the bed on its side. Leave that wall. The rectangular shape that you get in the room will be the size of your bedroom area rug.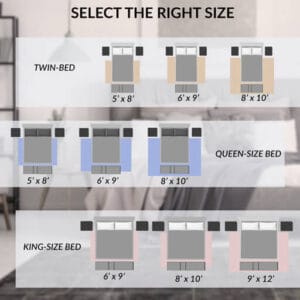 A bedroom rug should be at least 2 feet extended from all the edges of the bed so that it provides you with enough space to rest your feet on the carpet as you sit on the side of the bed. Increase the length of your rug by one foot if a sitting bench is placed at one end of the bed. If the bedroom is small and has limited space, you can select runners for both sides. Runners are comparatively cheap as there's a lesser area covered. For a large bedroom with ample space and different furniture sets, you can select various rugs for each site to define the particular area, perfect area rug for bedroom.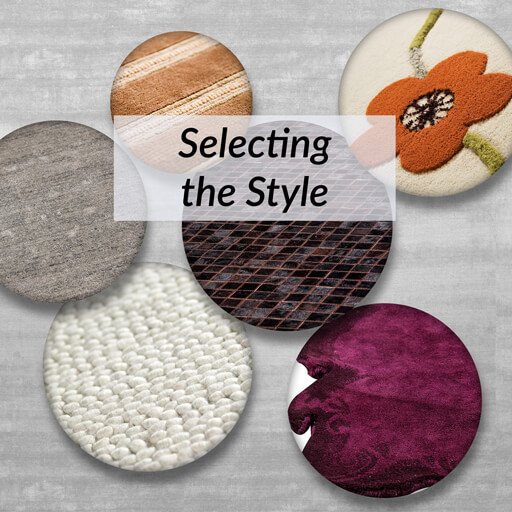 Selecting the style
Since the bedroom is a personal space and it is a private space and has less traffic. You can select a unique style of rug of the preference of those living there. You can focus on luxury as well as comfort. If you plan to choose a luxury wool rug, then the bedroom is the place to keep it in. If a bedroom has a large area, go for a neutral color rug. Selecting a bold rug here will disturb your sleep pattern. Choosing a carpet for the upholstery and color scheme of the bedroom is also important.
If a room is designed with solid colors, you can go for area rugs with lively patterns and if your bedroom is small in size, try buying an area rug with stripes. Striped pattern rugs can make a room look larger and provide a beautiful geometric feeling whenever anyone walks on the carpet. For a room filled with artwork, you should opt solid wool rug. You can also try to mix and match patterns and colors, perfect area rug for the bedroom.
Selecting the material
With many options of color and pattern, Area Rugs has many opportunities for the material also. Thinner Rugs are easier to clean, while thick ones are more comfortable.
Silk and Viscose Rugs look very nice and add to the glow of your room. But if there's going to be a pet at home, avoid Silk and Viscose Rugs as the pattern of these rugs can snag on the claws of pets, and the carpet will get worn out soon.
Wool Area Rugs and Polypropylene are among the most durable rugs and are also easy to maintain and simple to clean. One doesn't have to worry about the spillage drinks or stains pizza slice that falls on the rug. Polypropylene Rugs have an anti-slip back to ensure safety.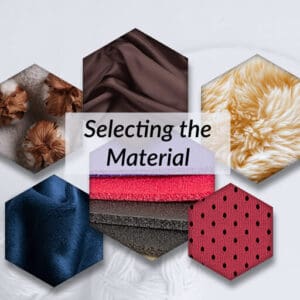 You would want a rug that can withstand all the seasons and look bright every time. If some part of the room gets more exposed to sunlight, we recommend you either replace the rug or close the blinds during the daytime. It would increase your rug's life span, and the colour of your carpet will not get faded. Alternatively, using outdoor rugs in these areas can be rewarding.
Nylon or Cotton Rugs are very affordable. They have a longer lifespan and can be cleaned in the washing machine as well. You won't need to spend more on replacing your rugs, perfect area rug for bedroom.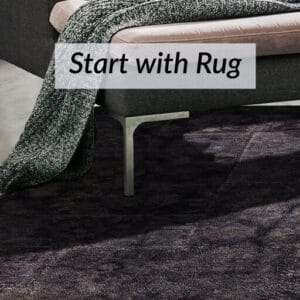 Start with Rug
Planning an interior for a new home? Looking for new ideas for the décor of the bedroom? Want a makeover for your existing room? Adding an area rug can create a homely vibe. When you plan to place an Area Rug already, select it first. Don't wait for the other accessories to be finalized first, but choose the rug first per the floorings and furnishings. A perfect bedroom rug ties all the elements of a room together and enhances the beauty of an entire room. Hence it is advisable to select a rug first and then select the other accessories of the space following the rug's style and pattern. 
Choosing the accessories first will make it difficult for you to buy a rug that coordinates with all different accessories, perfect area rug for the bedroom. Our perfect bedroom Rugs with their ultra-soft and comfortable feel will ensure that you start your day right. You can order a custom rug online according to your room size and colour, and we will be more than happy to deliver you a piece of art that will contribute to the beauty of every element of your room, a perfect area rug for the bedroom.
Buy a Rug Pad
The last thing you should consider before selecting a rug is a rug pad. If the rug is placed under the bed, keeping it with a rug pad will provide an extra cushion. If you are placing the carpets on a solid surface, opt for a rug pad to protect against slipping of the rug. There is a risk of slipping along the edges of the carpets, which can be controlled using rug pads. Keeping the above things in mind, visit our site Mat the basics, and search from our collection of best bedroom rugs with different colors and patterns. perfect area rug for the bedroom.