Leather Custom Rugs: A Complete Guide: The older and more traditional carpets and rugs were hand-knotted silk rugs, the softest cotton, and the sturdiest wool. New technological advancements elevated the craft and helped bring varieties in the form of materials. Polyester, linen, and nylon were then introduced to the weaving process. The newest addition to these heritage pieces is PET, an organic, recyclable yarn and hide.
Earlier associated with handbags, shoes, and belts, leather is probably the most unconventional material within the carpeting industry. But that has not hindered it from rising to its popularity. Millennials and even the older generations have finally adapted to the comfort and quality of leather custom rugs.
What is a Leather Custom Rug?
Leather custom rugs are made of different pieces of leather stitched together to provide a distinctive ensemble. At times, these are confused with the hides. Unchanged hide rugs consist of continuous skin of an animal with the shape intact (although slightly refined), with many different animal hides being used. These have been used by hunters for a long time, although some have become illegal with anti-poaching laws.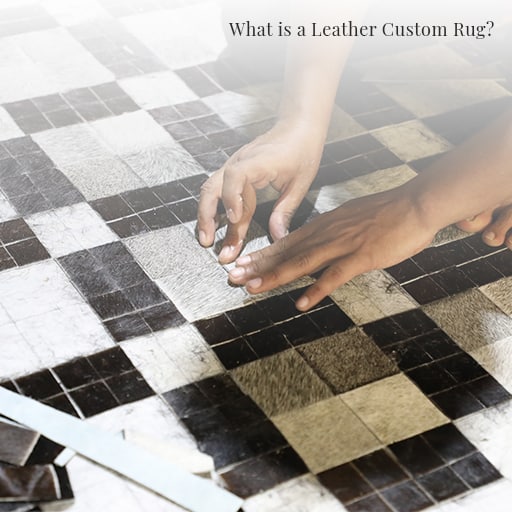 Though leather custom rugs maybe 100% leather, they are seldom married with cotton, jute, polyester, bamboo viscose, etc. Leather custom rugs are soft and dense. However, they might be uneven due to the different pieces involved. The pile height of a leather piece carpet can range from 0.25 to 0.5 inches compared to that of shag, which can go anywhere from 1-2 inches.
They are natural insulators and, as a result, bring about a temperature to the room, making it warmer and pleasant. Since it is animal skin, one must take caution. They should never be placed in a damp or humid room as it could deteriorate the quality of the product.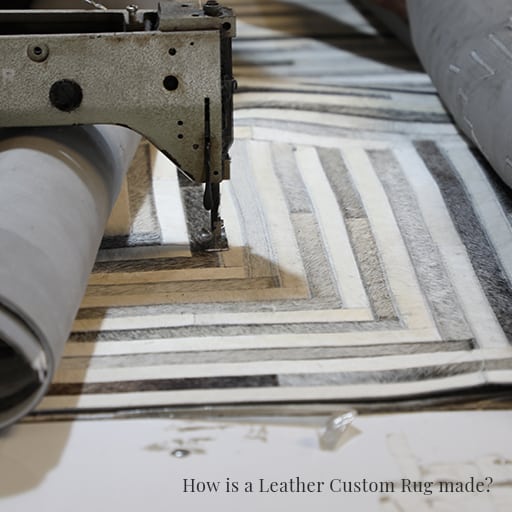 How is a Leather Custom Rug made?
Since leather products are heavy-duty, it is always a better strategy to formulate a pattern and design. Once selected, the hides are matched with each other so that the hair falls into a singular direction. The leather is then cut and arranged to realize the specific pattern. Once the assortment is completed, it is transferred to a foundation cloth.
To adhere to the pattern without a mismatch , all the pieces are affixed with a thin carpet tape on the base cloth. The hides are then stitched around the corner of all the details using a transparent thread. Once all the chunks are transfixed, they might sew the rug's corners again for an added sturdiness.
Customizing the Leather Rugs
A leather custom rug can be tailored to your need. Leather Custom Rugs are alike any other weaving type. These rugs are stitched together. To begin, you need to select a pattern. Though you can use a pure leather rug, you can also amalgamate leather with wool or synthetic fibers. You can either opt for a cowhide rug or a monotone leather rug. Once decided, these rugs are treated to achieve the desired color scheme. Afterward, all the pieces of the rugs are stitched together.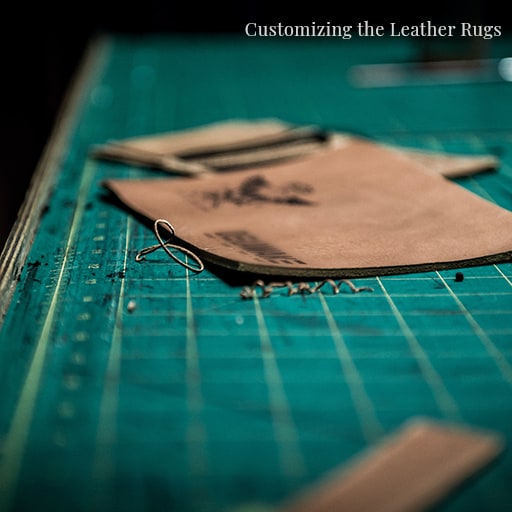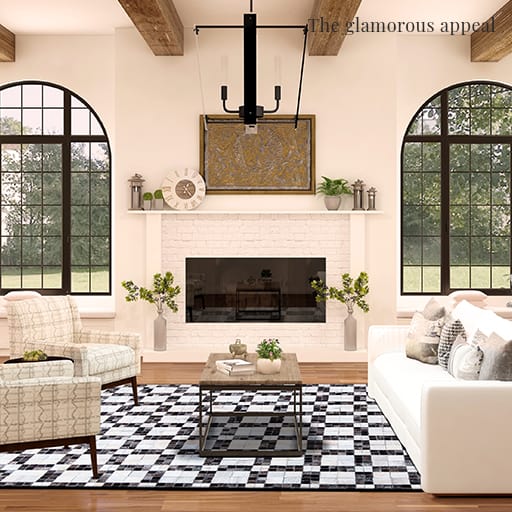 The glamorous appeal
Leather often symbolizes comfort. There are numerous types of leather rugs. You can either find a single hide, often cowhide, though sheepskin and lambskin are viable options, or a shag rug or a leather strip rug. Since the animal skins have a distinctive and unique pattern, it gives the designer a lot of room to play in and enriches their overall look. This quality is lacking in synthetic rugs or hand-knotted rugs.
While the leather strip rugs are made by stitching pieces of cut leather hide together, the shag rugs or confetti rugs are mostly rustic. Shag rugs are made using leather strips on a backing cloth. There is no pattern, and the ribbons are essentially plainly piled on top of each other. These strips are occasionally without hair, thus making these rugs more textually rich. In addition, the unique ensemble of the animal pattern can be upraised by dyeing them again to form unique prints.
Quality and Durability
In general, hide is a durable material. In the end, the quality of the leather depends upon the source of the leather and the treatment done in the tanneries. Due to their nature, these leather custom rugs would make a good selection in the high traffic areas such as living rooms or even study rooms, preferably in an 8′ X 10′ size. Another advantage of these rugs is that they do not shed hair. However, they should ensure that they aren't placed under bulky furniture pieces.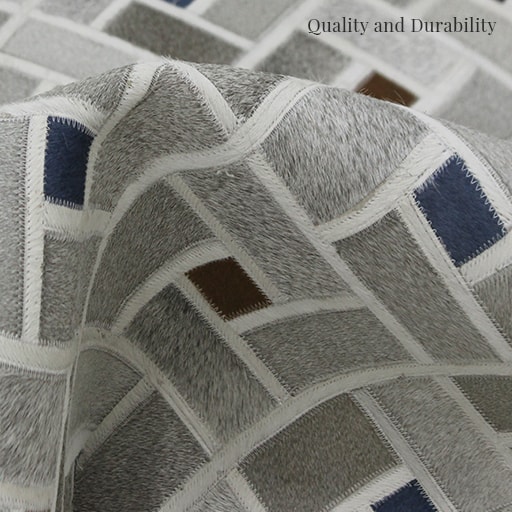 Leather has good aging properties. Over time, the natural color is developed further. It renders the piece a bohemian and a rustic vibe. It is softer yet resilient. The crude oil in leather also provides it with stain-resistant properties. Leather custom rugs, although strong, must not be beaten as they will tear out the fringe or puncture it. They are also susceptible to scratches. Thus, we must handle them with utmost care.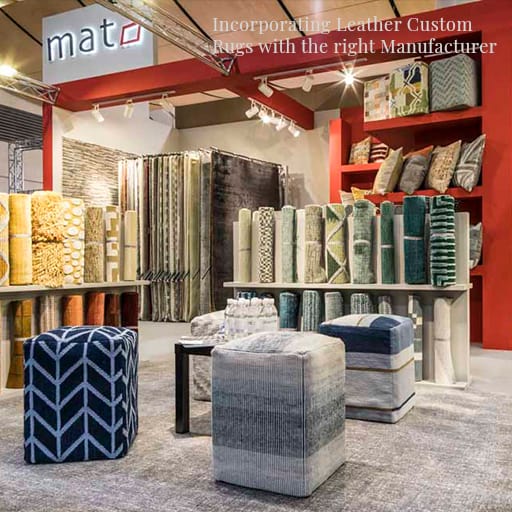 Incorporating Leather Custom Rugs with the right Manufacturer
Suppose you are an upcoming e-commerce industry specializing in carpets and rugs and would like to incorporate leather custom rugs for your customers. In that case, MAT The Basic can be a profitable wholesale partner choice. With its unique trade programs customized for each need, private labeling services for new brands, and grand collections of leather collectibles, MAT provides you with all the best opportunities.
At present, MAT provides options for rugs and carpeting and cushions, and other textile products. MAT The Basics' best-selling leather custom rugs collection consists of production lines titled Rio, which specializes in leather/ wool geometrical designs, and Gau, which includes an impressive mix of leather rugs to add to your arsenal, amongst others.
These products are easily customizable in material or blends used, and the sizes, pattern, or color are debatable. They also offer different mixtures within the leather products, such as wool, cotton, or viscose amalgamates. They also have top-notch security measures while procuring the leather hides after harvesting. Usually, leather pieces come with a distinguished unpleasant odor. At MAT, the workers are integrating painstaking methods to create custom leather rugs that are visually titillating and odorless. Thus, the quality at MAT remains unparalleled.