The floor of your kitchen is where you spend the most time, probably, and it's also one of the most important places in a home. That's why it's so important to get the best kitchen room rugs possible. Sure, there are plenty of great options, but which one is worth your money?
That's why we've put together this list of all the features you should consider when shopping for a new rug for your kitchens- color, durability, comfort, and more. The best kitchen room rugs will be able to offer you numerous features.
Best Kitchen Room Rugs
Having a beautiful kitchen rug can make all the difference to your home. It's the one thing you look at daily while cooking, eating, cleaning up, and everything else. A nice rug in your kitchen adds a level of warmth and color that makes everything seem inviting and comfortable. You don't want a space that makes you feel uncomfortable and rough-hence rugs are the connecting elements.
Though a nice kitchen room rug can turn your kitchen around in just one step, it must be as per your needs and wants. After all, you do want to be comfortable while cooking. Keeping these factors in mind, we have made our kitchen room rugs beneficial for your space.
Considerations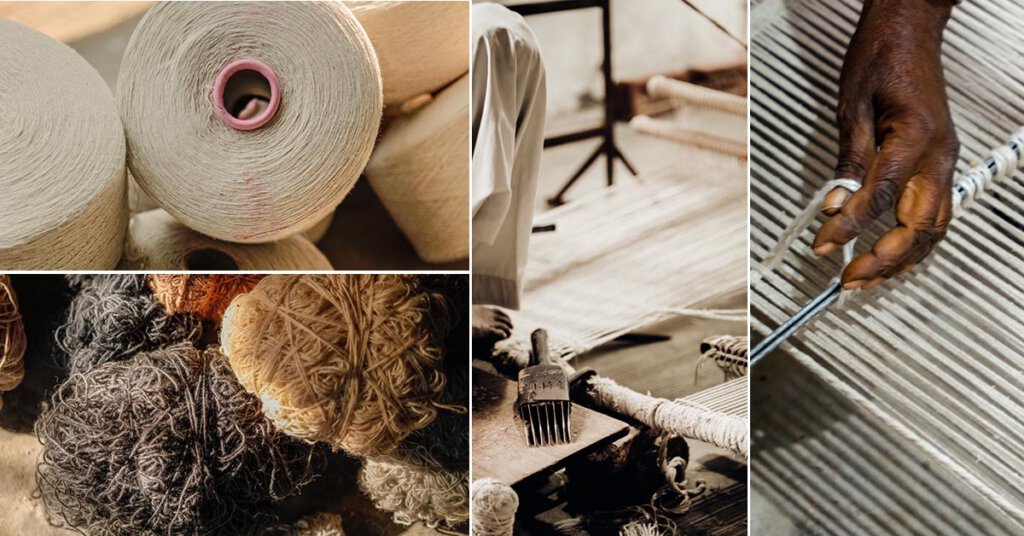 Check out these considerations before you look out a for kitchen room rug
Rugs for kitchens will need to be chosen as simple to clean materials such as polypropylene, wool, or runners with a low pile. Many redirect away from installing wool-based rugs in their kitchens because such rugs can be expensive. In the alternative, you can use synthetic kitchen room rugs.
Avoid runners and rugs that do not readily absorb stains. Our kitchen room rugs and runners offer the utmost comfort and durability. They are easy to clean and are made with a balanced proportion of materials, making them last longer.
In addition to the material, aesthetics is also a consideration when choosing the perfect kitchen room rug. The kitchen is an area similar to any other room and needs the same level of care and attention as it does a living space. Take a look at the overall style of your home and, in particular, think about the color and style you choose for your kitchen. It would be best if you also considered the weaving technique of kitchen rugs, making them easy to maintain.
Kitchen room rugs that are durable, comfortable, and popular from rug manufacturers: Mat The Basics
Herein, we have listed only a few of our kitchen room rugs. You can browse more from our collection for a stunning piece.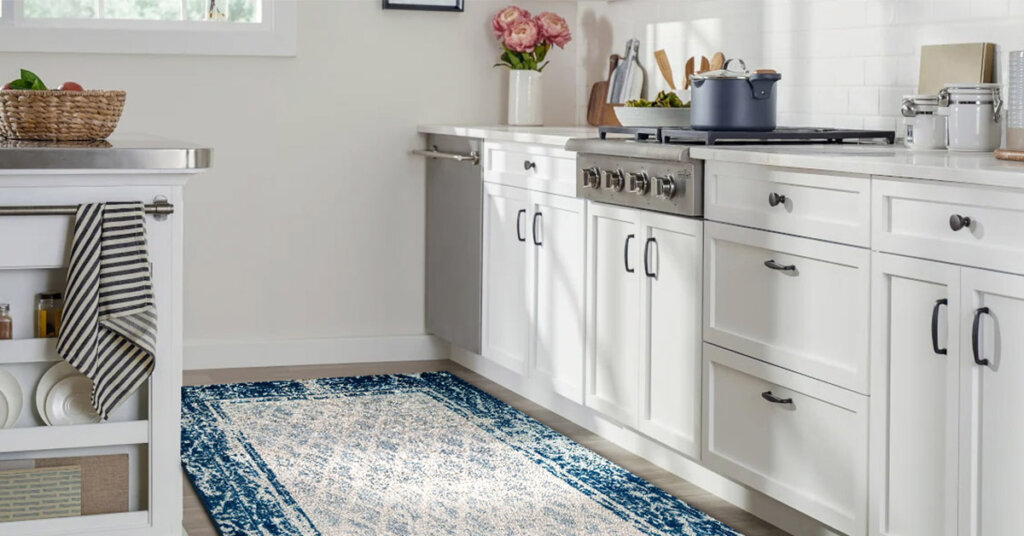 A dispersed patterned rug in a subdued blue color is never a disappointing accent for a kitchen. Made with wool, you get the softness, durability, and several other benefits from this rug.
2. Lansing Red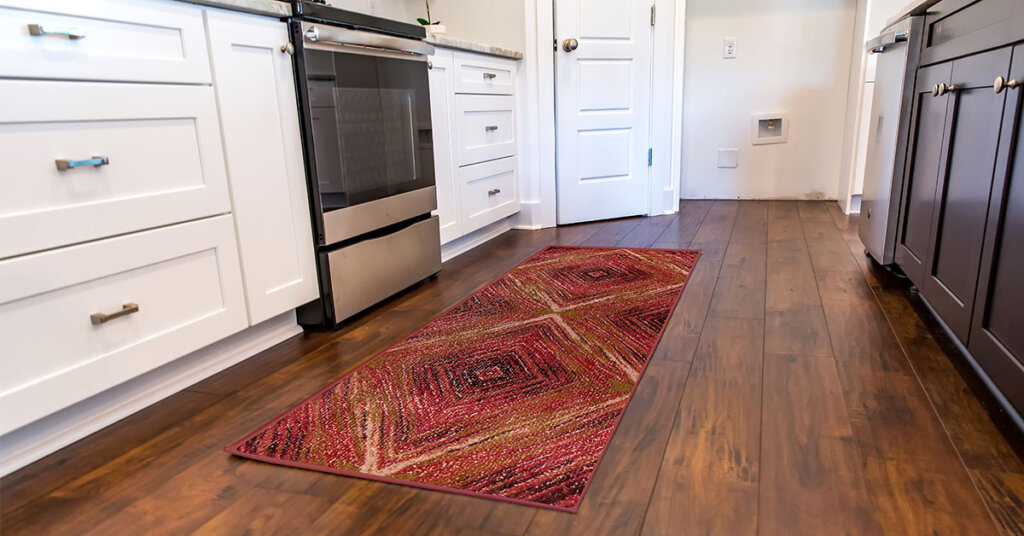 Our Lansing red kitchen room rug is the required addition to your decor for a dash of vibrancy. It's soft, durable, and very popular, and it's an excellent option for those looking to include runners in an elegant transitional style. The rug is stain-resistant, and you won't have to be concerned about spills ruining your investment. Made from 100% wool, this stunning work of art with a diamond pattern will make a kitchen feel more welcoming.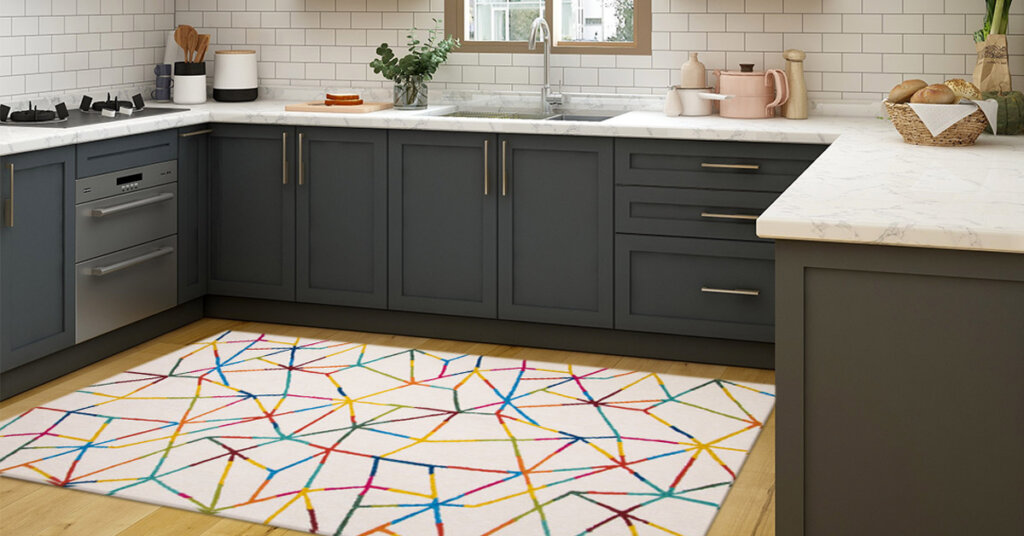 Synthetic rugs are a good option for kitchen areas, and their ease of clean properties make them affordable to sustain in the long run. For a kitchen with an open layout and dining area, our Bermuda Ivory kitchen room rug is a good choice. Its contemporary pattern is constructed from polypropylene, and the rug's flat pile simplifies cleaning up the crumbs and spills. This kitchen rug comes with a backing that eliminates the requirement for a rug pad and aids in the prevention of slippage and damage to hardwood floors.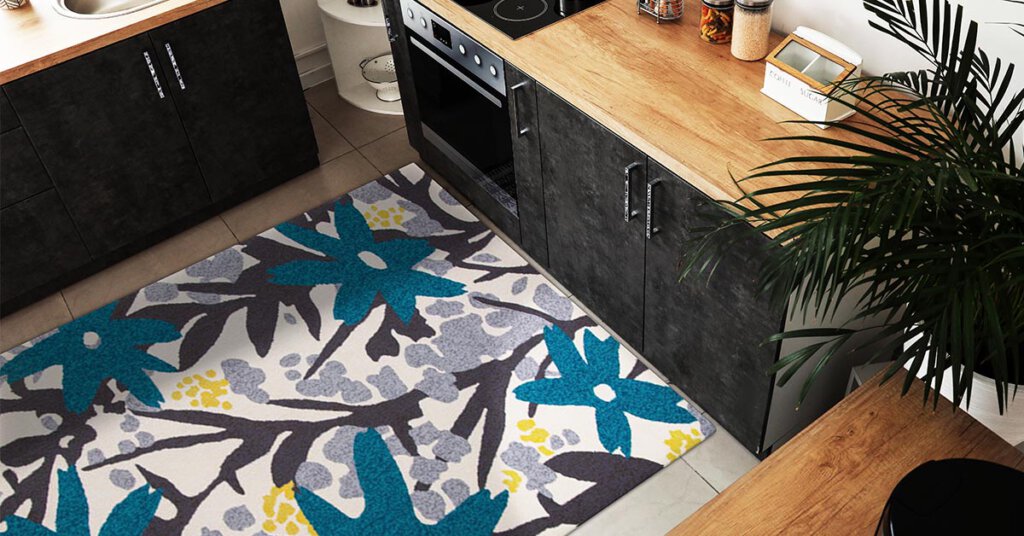 We house beautiful kitchen room rugs in floral patterns for a fanciful ambiance. For a kitchen with an open layout and dining area, our kitchen rug is a good choice. Its contemporary design is constructed from polypropylene and has a low pile, making it simple to clean up the crumbs and spills. This kitchen room rug comes with a backing that eliminates the requirement for a rug pad and aids in the prevention of slippage and damage to hardwood floors.
Benefits of kitchen room rugs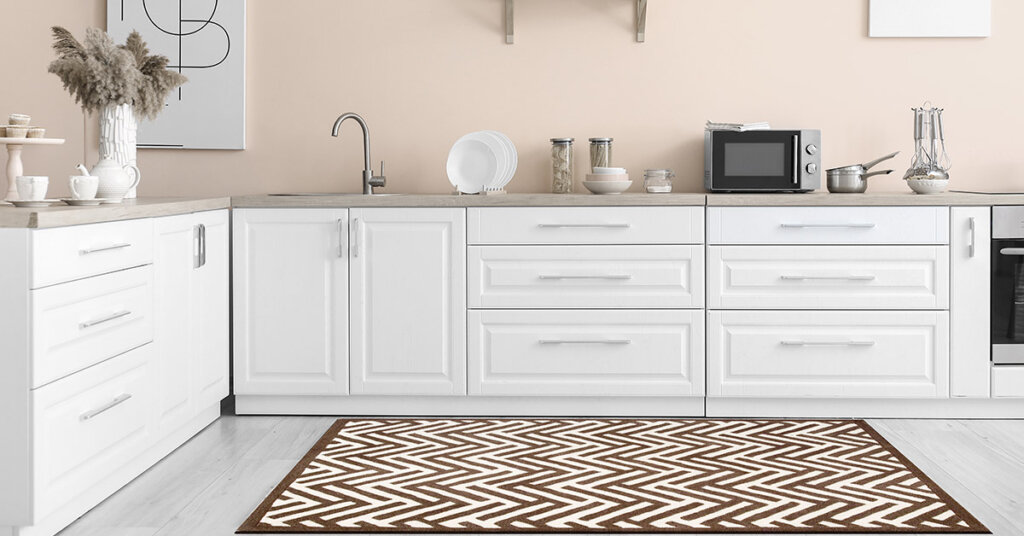 All-in-all, kitchen room rugs serve many practical purposes. It may be unreasonable to place a high-quality area rug in your kitchen, but it's an absolute necessity to safeguard your floors, whether marble or hardwood. Our kitchen room rugs have been made with an exceptional quality of weaving and materials that give you additional benefits; a few have been jotted down for you to check out.
1. Protection of floors & dishes
Kitchen area rugs do not just protect floors from scratching but provide cushioning when kitchen utensils fall off. The accidental slippage of dishes is commonplace, and our runners and rugs help to give a little extra protection, which could be enough cushion to shield them from crashing.
2. Creates an ambiance
Many consumers prefer to add a pop color to the kitchen. We are rug manufacturers who are known for exceptional quality services. Hence we also house kitchen room rugs in various colors, materials, design, and weave. This makes it easy for you to choose from our stunning collection when you want to add rugs to the kitchen. Color and style play an important role in creating a room feel warm and comfortable, and we make rugs that help achieve this.
3. Provides comfort for the underfoot
The kitchen is where you can put tension on your lower back owing to long hours of cooking. A well-padded kitchen rug will ease the strain upon your spine.
Our kitchen room rugs have been manufactured with backings that reduce the risk of injury due to slips and falls. It also gives a cushion for your underfoot.
Conclusion
Our kitchen area rugs are crafted of a refined weave that provides a subtle style to the style. We offer kitchen carpets in various dimensions and styles, ranging from floral and geometrical designs to bold and vivid to basic styles. Our kitchen runners are available in a fantastic selection of appealing options to meet your requirements. Browse through our collection of ideas for kitchen area rugs without ever leaving your home.