Undeniably, the positioning of a rug must be undertaken carefully. Over the years, interior stylists have experimented with numerous placements and arrangements to form some fixed rules, thereby answering whether rugs should go under the couch? Fortunately, they never go wrong. It now forms everybody's preference when they decide to lay a rug over areas that are meant to contain furniture.
Also, with time, as businesses needed diversification rug manufacturers have expanded to brand themselves as rug wholesalers or even sell directly to the customers. In doing so, they get to answer queries and solve problems right from crafting to designing to making the products. There are guidelines associated with the product that answers most of our questions.
Besides, there are rugs made to occupy specific areas. While some rugs are made to occupy hallways and open space areas, others are made for indoor architectures like the living room, bedroom, and dining room.  Certainly, the rugs that suit hallways and outdoors may not go well beneath the couch- they are generally runner rugs, excessive in length.
The living room – rug placement under the couch
Longing for the perfect placement of objects in the living room you may find yourself stuck on what could be the best possible ways if you wanted those couch and sectional sofas to sit on the rug. Well, let's guide you in this respect through some well thought and practised ways of laying rugs under the couch:
Centre your rug under the couch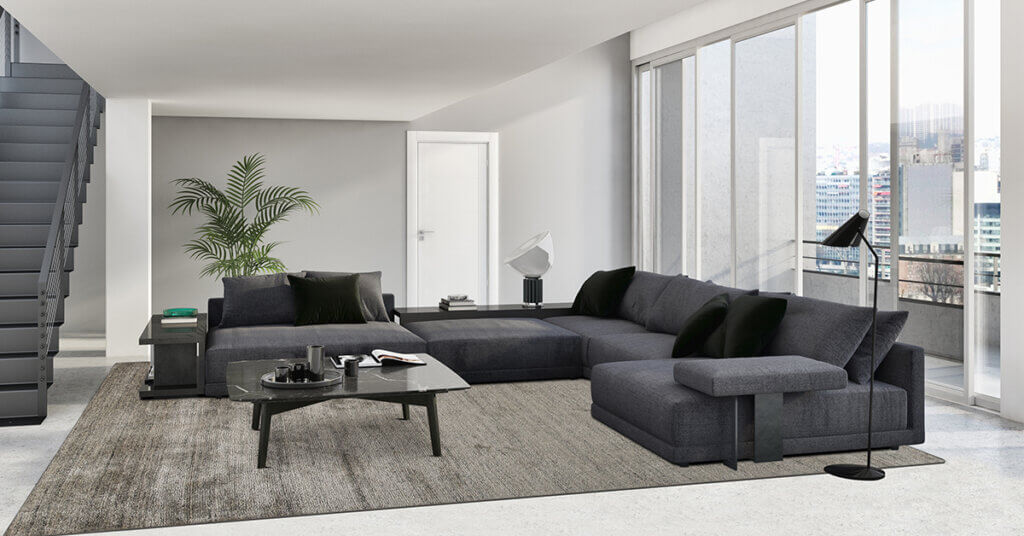 If you prefer less brainstorming and devoting the slightest time to getting your rug laid beneath those couches, you may like the idea of placing those rugs such that the rug is in the centre. However, such placement is advisable for considerably large rooms to accommodate furnishing in such a fashion. If that be true, you may consider the whole setting to occupy the middle of the room leaving space only around the marvellous setting.
For couches and sectional sofas in the L form, you may like your rug laid beneath such that it is completely under the area that forms L with all legs on the rug. This placement is known to make fairly large rooms look more spacious. Besides, it's not just another set but a well-thought positioning of a rug under the couch that appears complete and properly aligned.   
Partially under the couch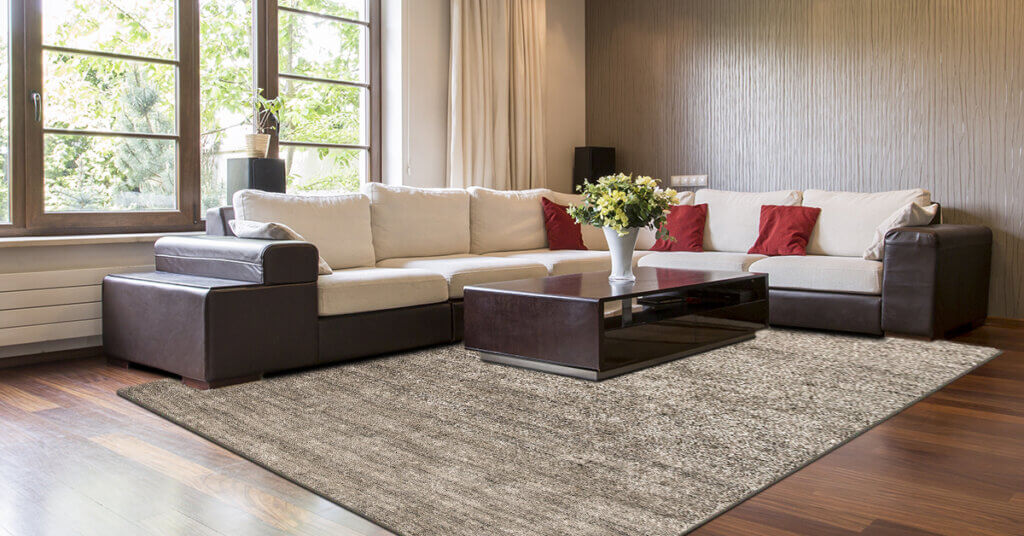 If you feel that having all legs on the rug is not a great idea, you may position only the front legs on the rug. This may also go well if your rug is of a smaller size. Interestingly, seemingly a compromised decision with a smaller rug, this positioning has gained popularity over the years and now are being practised for creating distinguishing aesthetics.
Partially under the short side
Yet another styling where the rug is only partially under the couch is when it is laid beneath the shorter side of the L formation. This could be an ideal positioning if you have extra furnishing like a coffee table to go over the rug.
This could be a hit and trial option where you may test positioning your rug under the couch in a random irregular fashion, asymmetrically, diagonally or following some other geometry. Well, you could end up on an arrangement that seems wow. Anyways, creativity is never defined.
Key takeaways from this DIY guide would be the four placements –  Centering rug under the couch, rug on the L, partially under the couch, and partially under the short side while leaving room for creativity when we say that you may explore other dimensions and geometry that your senses seem to most intersect with.
You must gather the necessary details concerning rugs before landing yourself on the right platform that could offer your kind of rug. Be it a single rug buying or a bulk buy sold by a rug wholesaler or a rug manufacturer cum retailer. For instance- we, at Mat The Basics, take care of your desire for a rug right from ideation until designing and making. Our customization services could deliver a rug that speaks one's mind. Also, we house a collection that bundles unique designs, varying patterns and intelligent weaving to offer choices that form your smart buy.