A rug is like a carpet that is used in an area instead of a complete covering. It is like a carpet that is relatively smaller than the dimension of the room. It is easier to carry from one place to another, and it must be chosen according to the area it is needed to be placed to that is convenient to the place and matches the area. If it is placed under the chair or some furniture or room, it must suit that particular thing's shape. The idea of an area rug is more as a décor element than merely a floor protective covering.
Area rugs are decided as per the area, and shape is chosen accordingly like. For round furniture, round rugs are preferred, and for rooms, long narrow rugs are selected, and so on. Area rugs create a cosy space for you and also add to the beauty of the space where it is placed.
Vintage Rugs:
Vintage rugs are generally those attractive rugs woven or used in the late '70s by people to enhance the look of their area. These rugs are now used again with modern furniture and rooms because it increases the area's look. Vintage rugs are also called antique rugs because they are used for a long time and are popular even now. These rugs are generally brownish or reddish in the shade, and they give life to an area with its authentic looks and features.
Vintage rugs are old and classy. Those are popular even now and will always be in the craze to increase beauty. Vintage rugs are a type of area rug only. However, they are different from other area rugs in some ways.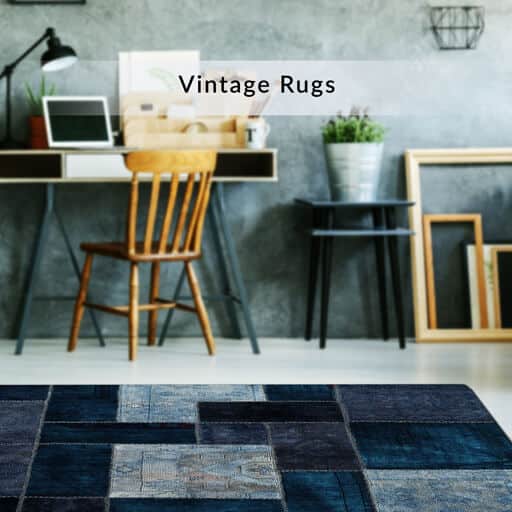 Difference Between Area Rugs and Vintage Rugs:
The area rug is a rug that is designed to fill or fit into a larger area of any room. A vintage rug is a woven rug used since the 1970s to work in any required space.
An area rug is used to comfort and make a cosy environment in a room or any area. A vintage rug adds to the beauty of an area and is used to enhance the look of the area where it is used.
Area rugs and Vintage Rugs can be on any color be it blue, pink, brown, or any color that matches the location where it is to be placed. Vintage rugs are generally of light shady brown or cream colors that look subtle and elegant.
The best materials for an area rug are silk, cotton, wool, sisal, synthetics, and more durable and provide comfort. The best material for a vintage rug is usually wool that is handwoven or handwoven embroidery or design used in the rug.
Area rugs And Vintage Rugs don't have anything attached to their ends. Vintage rugs have frills or tassels attached to their backs to add to their beauty.
Conclusion:
Both Area rugs And vintage Rugs are equally preferred as per the priority and need, and both have the uniqueness that defines them and makes them different from each other. At Mat The Basics, we specialize in classy area rugs of different varieties. While specializing in contemporary Scandinavian area rugs, our range of vintage rugs is another specialty that can add charm to any décor.