There are many ways to decorate a living room. You can place a beautiful living room rug on the floor if you prefer having fewer accents to change the appearance. Choosing the right carpet to provide attributes in a living room is essential. As rug manufacturers, you have many options to create a unique look with our living room rugs that are comfortable, durable, and popular.
Living room rugs inject a bit of personality into spaces. They are often more versatile and beneficial than wall-to-wall carpeting for various reasons. The most important thing is to select the right living room rug, which is correctly proportioned to the room's dimensions, and blends with the décor. Picking the wrong living room rug could cause your space to appear messy.
Living room rugs bring warmth and comfort to tiles and hardwood floors. They give texture to the room and help lower noise levels within your living space. Living room rugs anchor the furniture and create cozy seating spaces.
Materials to opt for living room rugs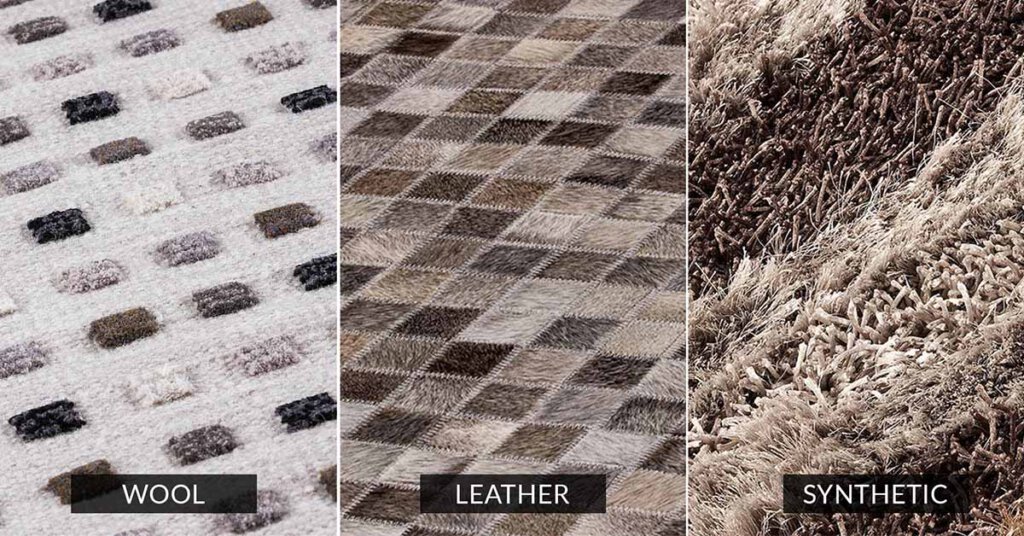 When choosing living room rugs, considering the material is essential. If you're searching for an affordable rug that is simple to maintain and stain resistant, opt for a wool or synthetic rug. If there is a spillage, the wool rug will not absorb liquid, making it easier to clean it off afterward. It would be best if you thought about investing in an area rug that is comfortable to stroll on and can take a moderate amount of traffic.
Initially, all the rugs were made of wool. Wool rugs are among the softest types. They can be made using techniques like knotting, tufting, loom, etc. Wool rugs have unique designs that are stunning when placed in an interior. With proper care, the wool rugs will last for a long time. Wool rugs can be placed in various rooms, including the living room. When one looks for living room rugs, one counts wool as their desired material. Living room rugs made of wool are robust and can also be used in areas such as bedrooms or dining areas. They are an excellent addition to interiors. Wool rugs last a long time and are resilient, with natural strength and toughness.
Leather rugs for the living rooms are statement pieces that will add sophistication to your decor and transform the appearance of an area. Because they provide warmth, they are perfect for bedrooms and living rooms. The hide rug is durable and soft, and they are sturdy and can create an immediate impression on an interior. Cleaning and maintaining them will make them timeless accents. Rugs for the living room, such as hide rugs with insulation properties, provide the necessary warmth to a home.
Synthetic rugs are made of artificial substances, like nylon, polyester, olefin, and polypropylene. They are used to mimic natural fibers. For living room rugs, these materials can also be opted. These materials are comfortable and durable, and popular owing to the design possibilities they can be made. The rugs made with these materials can also be used in indoor-outdoor spaces.
Synthetic materials are excellent for living room rugs since they won't fade when exposed to high traffic. They are also easy to keep in good condition since they can be cleaned by spot cleaning or vacuuming, although professional cleaning is always recommended. For living room rugs, synthetic materials are the best and easy alternative, as they are budget-friendly.
Our best living room rugs
As rug manufacturers, we make rugs that are not only in trend but provide functionality in the rooms. We manufacture living room rugs that provide aesthetics and help to bind the room together.
Check out some of our living room rugs which are comfortable, durable, and popular.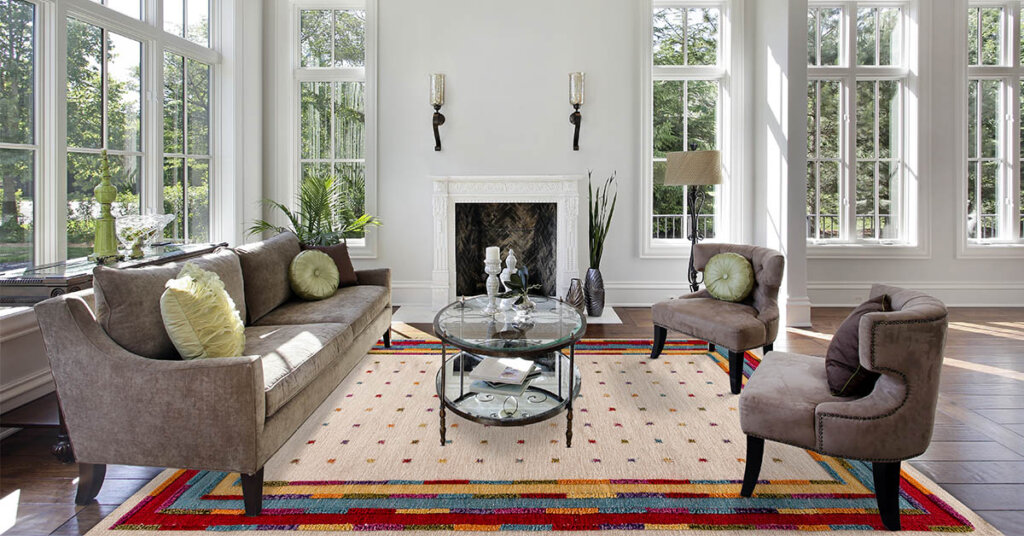 For the living room rug, a multi-colored hue adds the required shade. Our Khema6 multi has been made with pure new wool. Wool is known for its exceptional benefits, and with this rug, durability is ensured. For a transitional living room, adding this rug will add brightness and transform your abode into a vibrant appeal.
2. Sartaj pink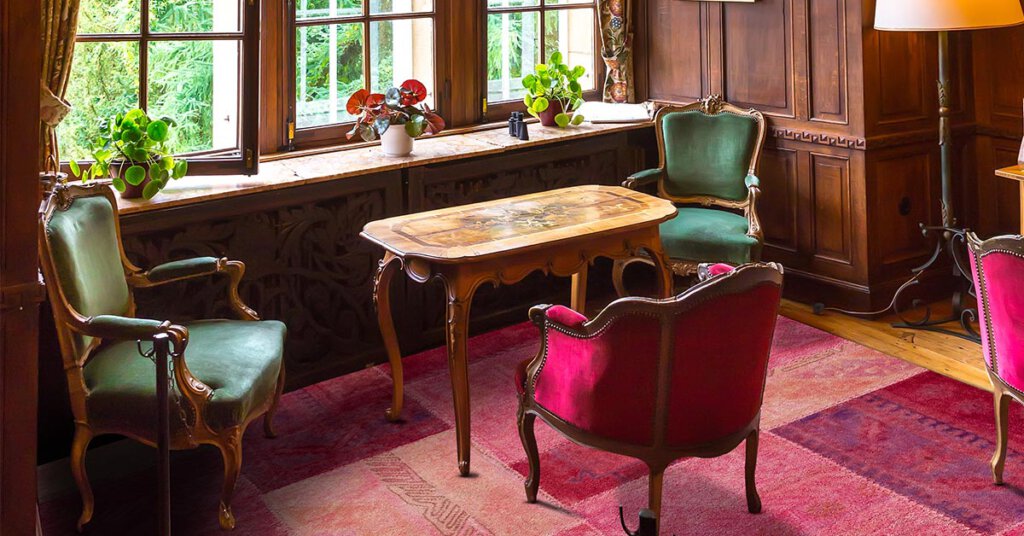 Our living room rug, such as the Sartaj pink, brings a Boho feel. You can give your living room a Boho look by adding a pink rug to it. A vibrant rug can add a lively touch to your living room, and you will be amazed at how the perfect pieces transform your living room. This is a great way to decorate a living space and add color.
3. Vega Brown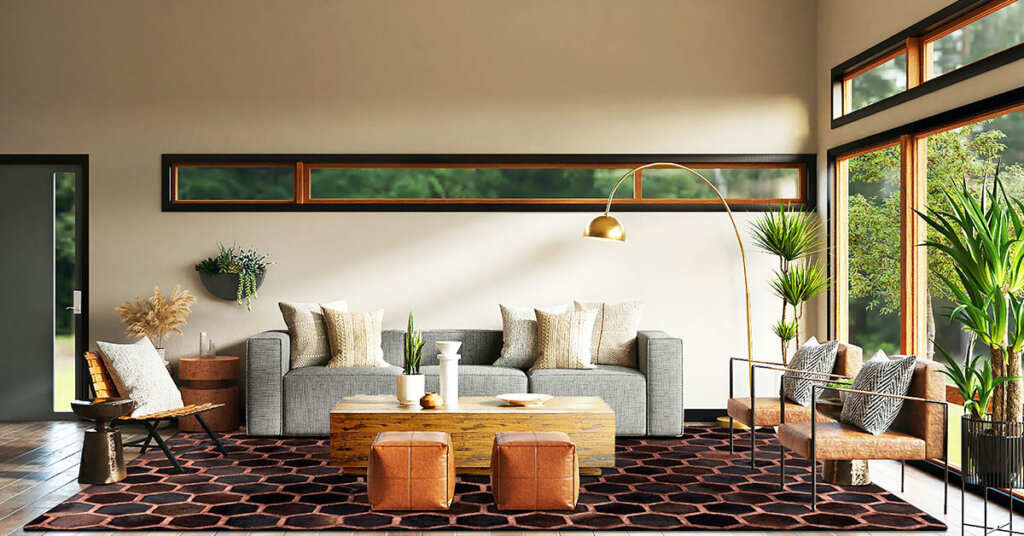 A leather rug such as the Vega Brown will look great in a living room with colorful furniture and modern decor. You can change the appearance of your living room by choosing a bold pattern for the rug. Our leather rugs include various high-end rugs made with refined finished work. Our Vega Brown is a living room rug with a blend of hair-on-hide and viscose.
4. Poppy Orange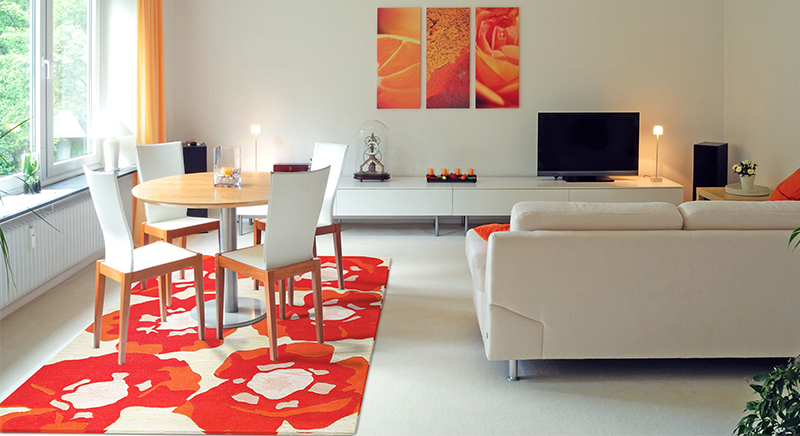 Wool is the most comfortable, durable, and popular material in rugs. You can place a bold floral rug for living room rugs if you are fascinated by the tropical style. It is advisable to try out bold area rugs to create an eye-catching look for the area. The vibrant colors and huge designs will add a lot of beauty to the couch and chair placed in the space. It is essential to select the right shades of accents that will help upscale the room's ambiance.
Conclusion
As rug manufacturers, we have made rugs that are versatile in their usage with the aid of refined materials for exceptional service to our buyers. Although we have listed some comfortable, popular, and durable rugs, you can browse through more of the rugs collection to find stunning pieces for your home.