Choosing the Best Rug Size for Your Room: Choosing a rug for your customer's space is similar to buying a pair of shoes. No matter how well dressed you are or what luxury accessories you carry, the wrong shoes can ruin it all. Imagine yourself nicely dressed for a party with a matching set of accessories and a well-set hairstyle but sports shoes on your feet. Wait, what about wearing a pair of wrong-sized sports shoes. Can it get worse?
Selecting Rug's best color and pattern decides how a room will look, but the right size will complement the overall look. There is no standard rule to describe Rug's correct size, but it solely depends on the objective of placing a rug in the room. Depending on the size and placement, a new Area Rug can be a focal point or an accent to any room. Hence the size of a rug rules is significant as it can make or break a room.
With our expert Designers' help, we are listing some details on how they use different room sizes of rugs and what design aesthetics they follow. This article may guide you to choose the Best Room Rug Size for your décor and use the standard rules of rug décor to do some creative rule-breaking. This guide will help a designer or architect in understanding Rug rules as a part of décor even more.
Best Rug Size for Room
Different Rug Sizes:
Area Rugs come in different sizes, and selecting a size for your room depends on many factors like Room rug Size, Furniture rug Size, Placement of Rug size, Orientation of Rug size, etc. Some basic Rug Sizes readily available for buying rugs online are
10' X 14' rugs
12' X 18' rugs
20' X 20' rugs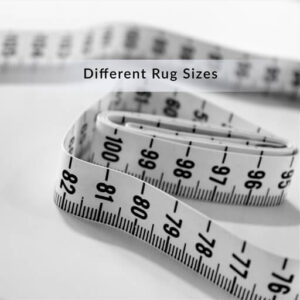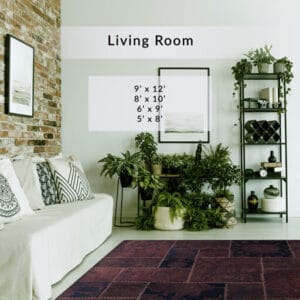 Area Rug for Living Room
Living Room (Best Rug Size for Room):
Before shopping for an area Rug online for a living room, you must consider the furniture rugs size and list down the possible layout options using the rug. If you have an open plan for the living room or a defined space, the rug size will differ for both setups Rug kids room. Let's see what can use all sizes of rugs for your living room:
9' X 12' Rug:
A large-sized area rug allows you to place all the furniture's legs on the Rugs, bringing together all the room elements and leaving only a few inches of flooring around the Rugs that looks like the border.
Area Rug for Living Room
8' X 10': Area Rugs:
An 8' X 10' area Rug is perfect for a large living room or an open plan living area. It lets you place the furniture's front legs on the Rug with back legs off, creating a conversational space in the living room rugs. It opens up the area around the table, giving an excellent surface to walk upon.
6' X 9': Area Rugs:
A 6' X 9' area Rug is ideal for a small-sized living room. With only two legs of the chair on the Rug and the sofa completely off, it defines a perfect conversation area in the living room.
5' X 7': Area Rugs:
Ideal for a small living room, only a coffee table is placed on the Rugs with all other furniture surrounding it. Can also use it near a fireplace where two chairs are arranged on the Rugs.
3' X 5': Area Rugs:
A 3' X 5' area rugs can add a welcoming texture to the entrance of a living room rugs.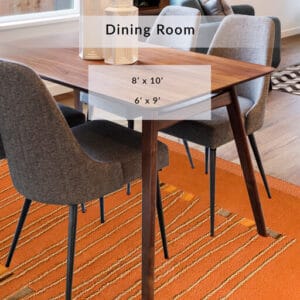 Area rugs for dining room
Dining Room Rugs:
Area Rugs for Dining Room are ideally placed in the center, beneath the dining table. The table and chairs are placed completely on the rug so that enough space is available to pull the chair out and still be having the rugs underneath the chairs. Your Rugs should be at least 24 inches extended from all sides of the table.
8' X 10': Area Rugs
Best for the large dining arrangement of eight chairs, it leaves enough space on all sides to place chairs on the area rugs. Can move Chairs easily in and out with a good amount of space between two chairs. If the dining area is large, leave a few inches off the floor around the rugs to anchor the space.
For the arrangement of six chairs, a rectangular rug will leave about 30 inches on all sides between the rug and the wall to frame the space.
Round Shaped Rug is also popular for the arrangement of a table with six chairs. Round shaped rug unifies the entire dining area and complements the arrangement.
6' X 9': Area Rugs
A table of four is easy to place on this rug, with the option of choosing either a rectangular or round-shaped Rug. Enough space on all sides of the table allows you to float the arrangement of tables and chairs easily.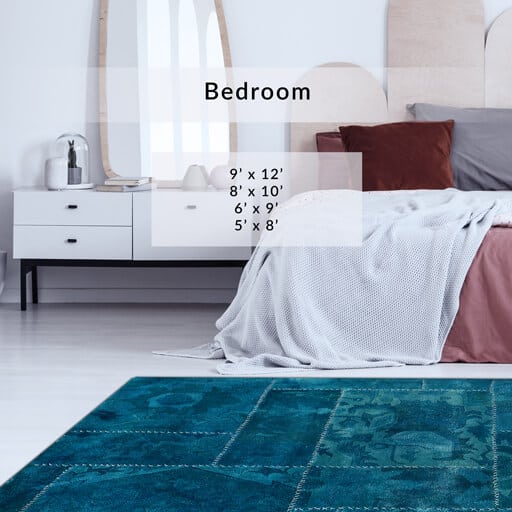 Area rugs for bedroom
Bedroom Rugs:
A perfect rug for the bedroom depends on the size of the bed and the room. You can try the various rug sizes and different placement of the rugs depending on where the bed is placed.
King Size Bed Rugs:
9' X 12' Rugs size works best for the king-size bed, with nightstands on each side. It lays completely under the bed, leaving 2 feet of the rug on each side to give the feet a soft and cozy surface as one walks out of bed in the morning.
Queen Size Bed Rugs:
9' X 12' and 8' X 10', both area rug sizes provide enough space to step on the rug. With this arrangement, you can also place an end-of-bed bench for extra seating.
Queen Size with Round Rugs:
8 Feet Round Rug fits nicely under the queen-size beds. It adds a stylish touch and comfort to land on any side of the bed.
Single Bed Rugs:
Rugs of Sizes 6' X 9' or 5' X 7' are fit for the single bed, leaving enough space all around the bed. You can also use two smaller Area Rugs of 3' X 5' on both sides of the bed.
Twin Bed Rugs:
Placing a 3' X 5' Rug between two single beds area rugs is a great option. You can also place a runner rug between the two beds.
Runners Rugs:
Rugs Runner is used at a place with a long stretch of floor. It can be used in a passageway of your home, in the kitchen, or front of the fireplace. It comes in different sizes of 2.5' X 7', 2.5' X 10', 3' X 5', 5' X 7', and adds dimension to the narrow spaces of your room.
Mat The Basics offers customized sizes in addition to the standard sizes, making it easier for you to do the décor, as it can provide unusual sizes to you in a variety of styles, patterns, materials, and weaves.