Office rug are important because people spend a good amount of active time in their offices. They put in long hours, give their best at what they do, and excel in their goals in that professional space. Knowing the fact that a professional environment encourages creativity, spending substantial time there does not have to be boring.
You can make your office cozy, comfortable, and warm, as it should be by adding the right area rug to your space. Roll them out in any space, and you will have a perfectly tied up and unified space. The warmth that a Office Rug sends out makes it the crowned winner of any décor list.
So, what are you waiting for? It's time to get your office the Perfect Area Rug to anchor and transform it. Office rugs can differ from those you have at your home because the functionality differs a bit. Your office rug has to bring in a sense of calm that will prevent you from losing focus.
How to choose a Office Rugs?
You have two approaches to go for a rug for the office. A Office Rug has to accentuate the style of the office, also while increasing the comfort level. If you aim to strive for a sleek and modern workspace, you should consider contemporary rugs. These styles come in solid colors and muted designs, introducing a better and modern design aesthetic. You can find patterned office rugs in contemporary rug collection as well, but a muted print will help you avoid a décor clash in the office.

If your office is more inclined towards a rustic feel, you can add to the distinctive style by introducing braided, shag, jute, Moroccan, or monochrome rugs. Some of these rugs have a soft color palette that will go well with the rustic feel in your office.
Many people like a traditional feel in the office. Persian or oriental rugs can be a luxurious addition to such style interests and give you an elegant executive corner. These rugs come in beautiful geometric patterns that can look both formal and global. If you have richer and darker tones in the office, this style rug is your best bet.
What size rug best for an office?
When choosing a rug for any place, you have one rule to follow. The rug can be large or small, but it does not have to be too much that it overwhelms the entire space. This same rule is golden for Office Rug. If you want a full-room effect, you can get a rug to fill the floor but leave 18 inches between the wall and edge of the rug. If you get a rug sticking to the wall, it will make your office look considerably small and cramped.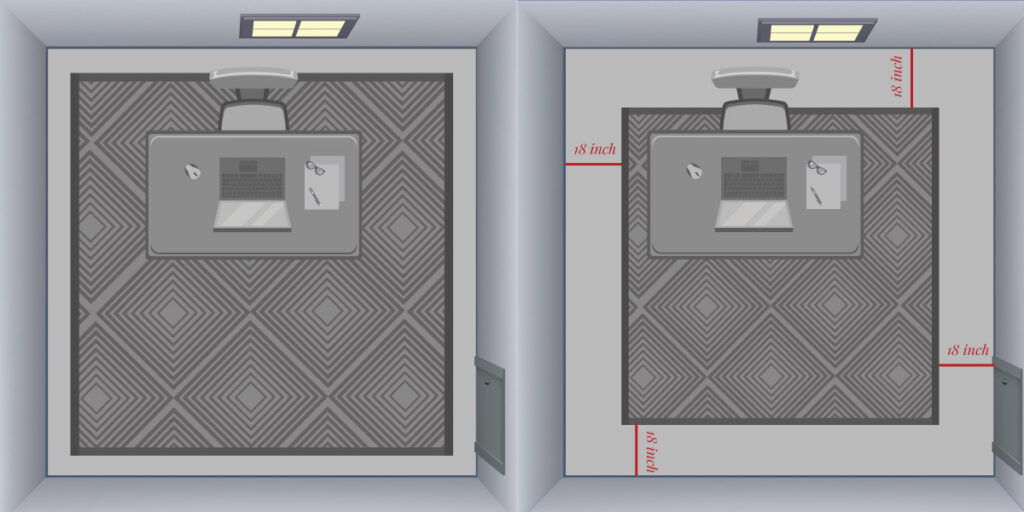 If you have ample office space, you have multiple styling options at your door. For example, you can introduce runner rugs that can help you categorize the room. You will have to be careful while measuring the room and be extra cautious when planning the placement, as it can either complement or destroy the look of your office space. If the desk or the furniture is round, getting a round rug will make the arrangement muted. Thus, the furniture plays a crucial role in the selection of a Office Rug.
Additionally, when deciding the size of the Office Rug, consider the access areas you need every day. If you need to reach the file cabinets, for instance, the edge of the carpet should reach at least all the way up to these items of furniture. Typically, the larger the Office Rug, the more comfortable the room will appear. A large Office Rug can offer numerous benefits including sound-dampening which is perfect for an office space.
Best rug material for office rug
Offices are generally high-traffic areas, so you choose the material that's comfortable and strong enough to handle plenty of foot traffic.
Wool rugs are incredible. They are excellent water repellants, pleasantly soft, extremely durable, gorgeously beautiful, and absolute favorites in any setting. These rugs are a great fit in an office setting because they are stain-resistant.
Polypropylene rugs are budget-friendly and durable. These rugs do not fade much and are stain-resistant. Cleaning and maintaining these rugs are also easy as compared to other rugs.
Fibers like sisal, jute, and seagrass are also a great fit, owing to their durability. These rugs may not be very plush, but they do last a long time. Besides, there are a few materials to avoid if you are looking for a rug that is low maintenance and able to handle high foot traffic. Before choosing a material for your office, be cautious about its functionality.
Some Lightening rug design for your office space
If you are planning to get a rug for the office, you are definitely not short on options. You can find your fit in hand-knotted, hand-tufted, flat weave or machine-made rugs. Here we have listed the best rugs to add elegance and feel to your office space.
Boston Beige Area Rug Carpet
If you want something simple yet precious, this beautiful rug is a perfect fit for your office. There is something about casual and elegant flooring that attracts beauty like nothing before. The rich feel and luxurious finish of the rug are a staple for your creatively designed office. This style is constructed from flax, New Zealand wool, silk, and viscose and is hand-knotted for a true artisan feel.
Berber Brown Area Rug Carpet
This brown hand-tufted area rug is versatile and will add some plush to your office, making it more comfortable and cozier. The rug is available in many size options. You can choose one to match the dimensions of your room. If you like the texture, you can shop for this same rug in different winning hues. Its plush appearance begs to be walked barefoot and sat upon, making it a perfect piece of comfort and style.
Union Square Grey Area Rug Carpet
With fantastic arrangements of symmetrical lines, this hand-tufted rug can create a unified definition of your office space. This rug is most likely going to collaborate with your existing décor without creating many clashes. This square rug will go smoothly with your furniture arrangement. The low pile rug with a luxurious touch is all soothing to the eye. This design includes several brilliant hues to choose from, as well as, a range of size choices to accommodate your needs.
Terni Grey Area Rug Carpet
For those who like opulent style, this rug is your choice. This particular rug can make your office look creative and relaxing at the same time. If your office is bright enough, this rug is quite a catch. The hand-printed design on the soft bamboo viscose will give your office a personality of its own.
Custom Rug for Office
Choosing the best office rug for your space is one of the main elements in setting the tone and style for your office. Whichever type of rug you choose, ensure that it first fits your function, then makes an impact by showcasing your style, persona, and way of working.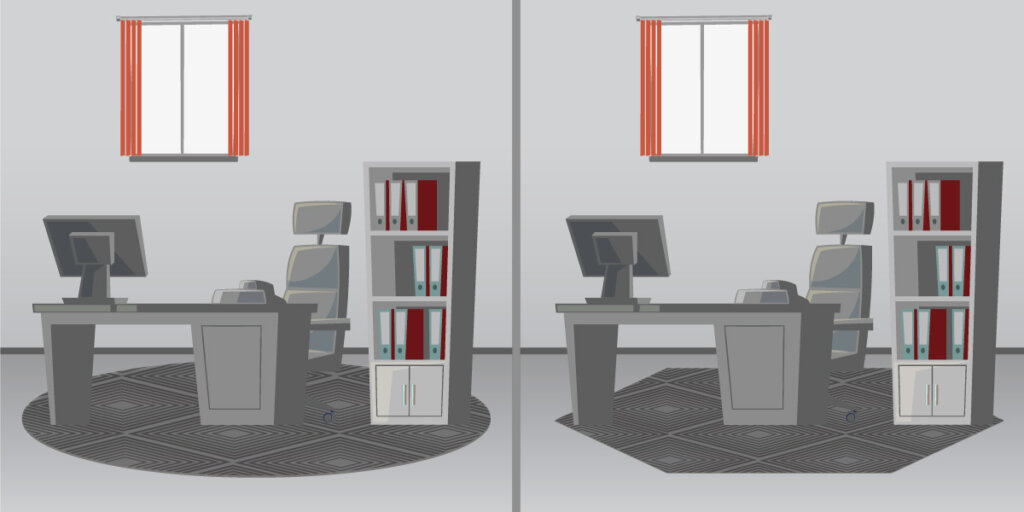 If it's about you then, why settle for a catalogue? Get a customized one made specifically for you at MAT The Basics. We have the widest variety of rugs in all colors, shapes, textures, and styles that fits your means. Check out our collection and cherish it for generations to come.