We are a trusted rug manufacturer, and our making includes a variety of indoor-outdoor rugs. Our indoor-outdoor rugs in any living space can provide unparalleled luxury and comfort, as well as an increase in elegance and style. Our indoor-outdoor rugs are perfect for creating outdoor or indoor space zones so that you can clearly distinguish the space per your styling demands. These specially designed rugs will be your new favorite home design piece.
You will feel comfortable beneath your feet with an enlarged rug tucked between your indoor-outdoor décor. Our indoor outdoor rugs will help you to be able to put together a coherent design, even adding additional color.
Considerations in indoor-outdoor rugs
Check out these considerations before you set out to purchase an indoor-outdoor rug.
Materials
Synthetic fibers offer a fantastic combination of vivid colors and are long-lasting. Indoor-outdoor rugs made of natural and eco-friendly materials feel luxurious and soft underfoot. They usually come in natural colors that complement indoor-outdoor areas.
Design
An indoor-outdoor space can have a harmonious look when a beautiful indoor-outdoor rug is purchased from trusted rug manufacturers. If your furniture inside is vibrant and colorful, a neutral carpet could be the best option to blend into, whereas you can enhance a simple outdoor setting with a pattern or the texture of a rug. Explore our collection of indoor and outdoor rugs that houses a range of these pieces.
Construction
Indoor-outdoor rugs come in a variety of weaves. With different weaving and design possibility, our indoor-outdoor rugs make for the most durable, comfortable, and popular.
Color resistance
Our indoor-outdoor rugs do not colorfast and are fade resistant. We manufacture high-quality rugs with premium quality materials to provide durability and comfort. With proper cleaning and maintenance, indoor-outdoor rugs can be utilized for a long time.
Some best picks of our indoor-outdoor rugs
1.Lienzo Turquoise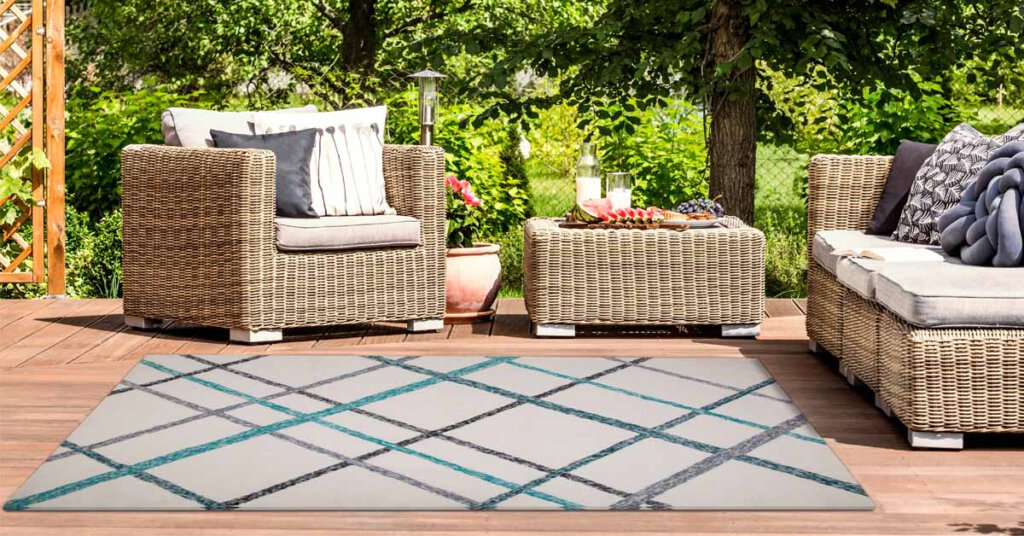 The Lienzo turquoise rug comes in a vibrant shade. It is a pattern of stripes composed of simple, elegant lines of gray and black, guaranteed to make your outdoor space look dynamic and exciting. The rug is constructed of polypropylene, making it a sustainable alternative. It has UV-resistant properties and can aid in preventing fading when it is exposed to sunlight.
2. Shadow Light Gray
We recommend our Shadow Light Gray indoor-outdoor rug for a bold splash of color. Hand-tufted using polypropylene comes in a rectangular size to suit your area, and it features an abstract geometric pattern that is eye-catchy. The rug is fade-resistant, comfortable, and durable, owing to the fantastic properties of its material and making. For a stunning space in an indoor-outdoor, this rug is an enchanting décor piece.
3. Vista Blue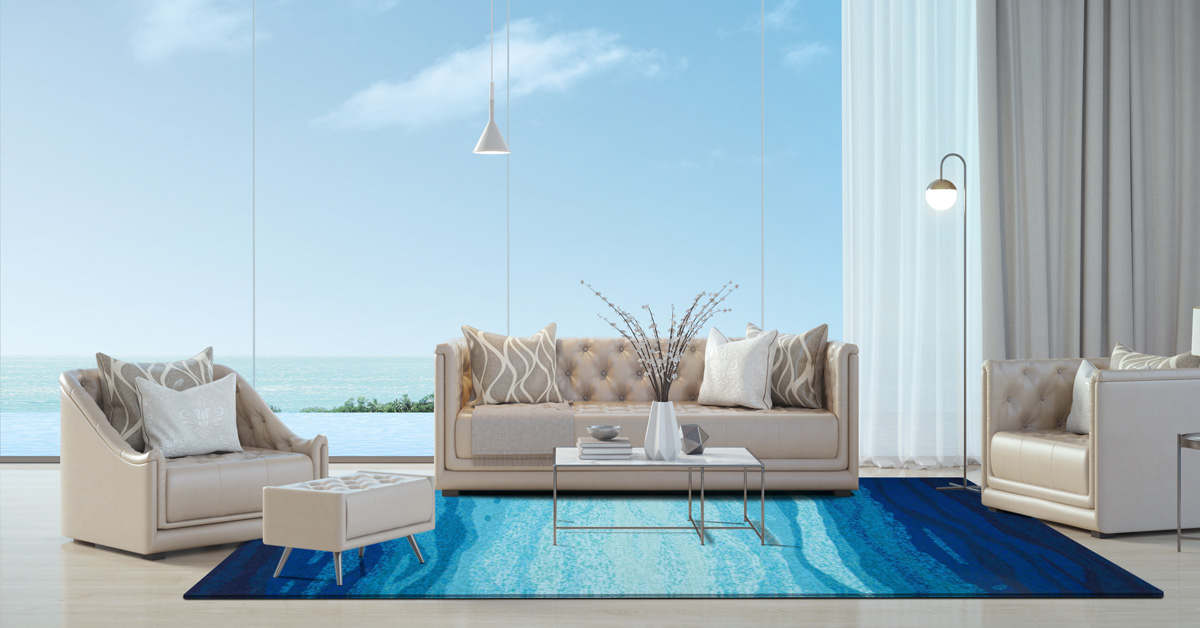 Sophistication can be brought by simple things, as is evident from the Vista Blue indoor-outdoor rug. With a simple wave design and an alluring color tone, this rug is made for a stunning indoor-outdoor space. Quality making is considered an eco-friendly material, making it a durable, comfortable, and popular carpet.
4. Bloom Gold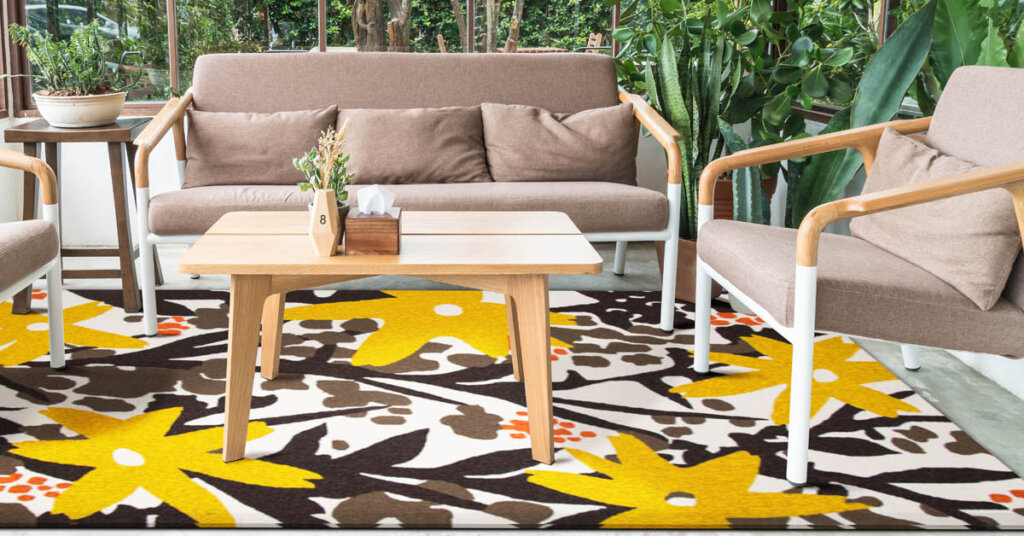 A floral rug is Bloom Gold with hues as its name, has well-thought patterns, and is available in beautiful colorways. This rug is the best fit when you want to give your space a nautical feel.
Cleaning and maintaining indoor-outdoor rugs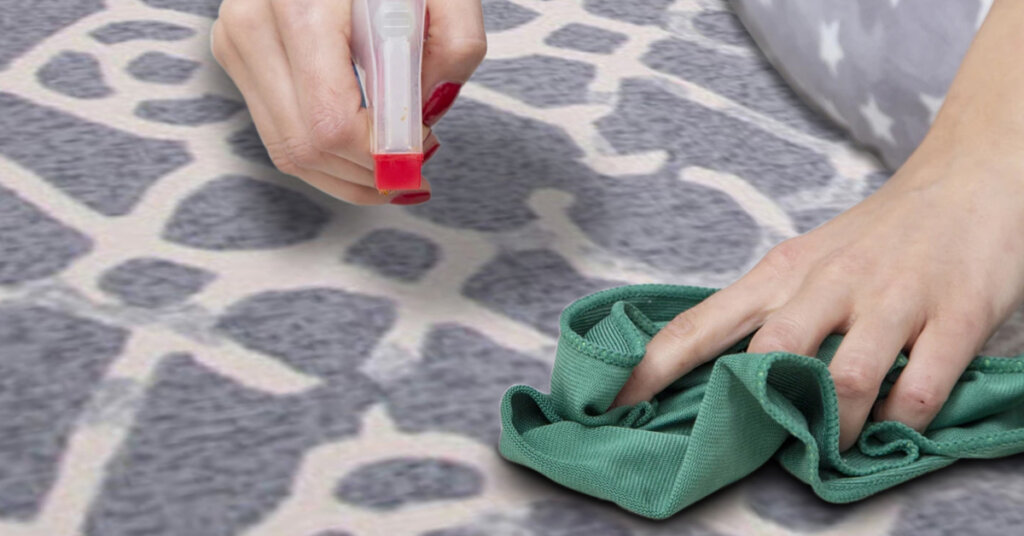 Indoor-outdoor rugs do not require frequent cleaning and maintenance. Most such rugs are made from artificial materials, makings their cleanliness an easy task, and you can clean them with mild dish soap in the event of spots. Because most indoor-outdoor rugs are made from synthetic fibers, they are resistant to dampening and moisture. For darker, more difficult staining, take a spot-cleaning approach. After blotting the stain, use a dry tissue or paper towel to clean it. Indoor-outdoor rugs should be allowed to air dry completely before putting them back into your home if used outside.